The new name is not for me, I know who I am (well, most of the time I do!) It's for these: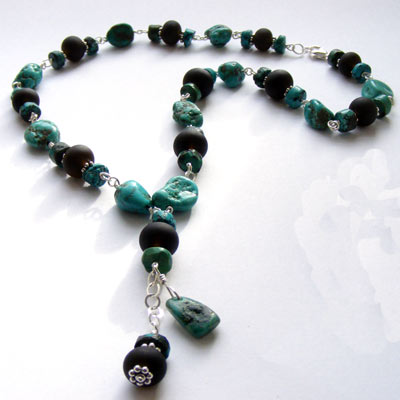 This morning I have been taking photographs and updating the
Lampwork jewellery page
of my website with new jewellery. There are a couple of new crocodile bead earrings and a super double length crocodile bead necklace on that page but the stars of this week's updating is this new jewellery range using beads made from recycled Cava bottles and turquoise. Indeed, I have only just realised that I need a new page in my Recycled section for recycled Cava beads; I don't seem to have ever photographed them before and I usually have a few pairs for sale most weeks. Until I get round to making the new page, I'm just putting them on my
Lampwork jewellery page
.
All I am calling them at the moment is
Cava Turquoise
which seems very boring so ... I am having a second competition in two days. To enter, please just post a name for this new jewellery range as a message in the comments section or E-mail me using
the contact page on my website
. I will choose the new name from my favourites but everyone's name who enters will go into a hat and I will draw out a winner whose prize will be a pair of earrings of their choice from the new range.
If you want to see them in person, do stop by my stall at the Art & Craft Market in Cambridge tomorrow, I'm looking forward to showing them off!
This afternoon I have been to see Jonathan Hobbs, the osteopath who has done such sterling work to unfreeze my neck and cure that persistent headache which plagued me for much of January. It's steadily been getting better day by day and I've only had one dose of painkillers in the last three days; I still get the odd twinge but I feel so much better now and I'm able to think. He's suggested that I don't go back for 4-6 weeks when he'll check me out again to make sure I'm not tightening up. In the meantime, I've got some upper back exercises to do which should help.
Now I'm feeling back to normal, I'm finding that suddenly I've got lots of ideas for updating the display area of my stall which was one of my top priority jobs for this month but I just couldn't seem to get "switched on". Now that I'm feeling myself again, I am looking forward to putting it all into practice. I had hoped to have that done by now but watch this space for more news soon!