Bead creep. This is a term first coined, I think, by
Judith Johnston in her blog
. I recognised all the symptoms in myself and have adopted it. In a nutshell, the main symptom is that glass beads appear in little piles all over the house and hardly ever get tidied away.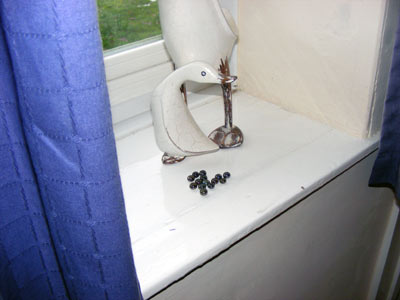 Before Christmas I had a big tidy up in readiness of the arrival of various relatives for the festive period. I found beads were all over the place:
In the window sills
Recently cleaned beads on the coffee table in front of the TV
On the dressing table in the bedroom, absent mindedly put there when I meant to take them into the studio, but I went upstairs with them instead
Lots of disorganised piles and trays of them on my jewellery making table

It took quite some time to tidy them all away, either into the big bead bottle where my fuglies, experiments and end of lines are or neatly temporarily strung and put into zip log bags in a tin for future use.
Fellow beadmakers, depending on their tidiness, may or may not contract bead creep at various times. I seem to have suffered pretty much all of 2009, went cold turkey (ha!) on 24 December but - as the photograph evidences - only managed to remain symptom free for a mere six days.
These beads are quite simple little things, various colours of transparent glass, rolled in a reduction frit and then subjected to a propane-rich flame has turned them into coppery beads that go really well with this handbag I bought from Mayhem in Cambridge during their summer sale.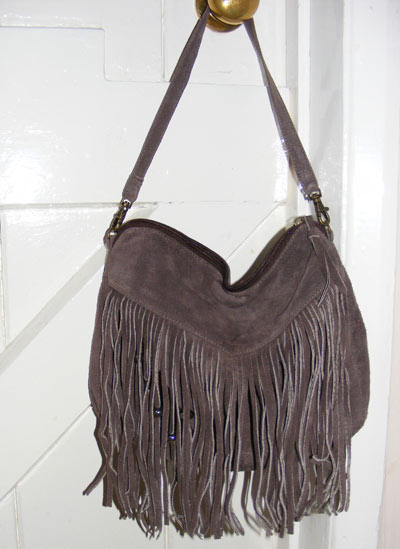 I very rarely use a hangbag, I tend to wear jeans pretty much all of the time and just use my pockets. However, I always liked fringed things and when I saw it in the window, it kind of spoke to me saying that if and when I do want to use a handbag, this is the one!
Anyway, I made the beads on 2.4mm mandrels rather than the usual 1.6mm which means the holes are just big enough to be threaded onto the fringe. I've only done a few to see if they go and I think they do - there's actually six on the bag but you can only see two! I'm going to need quite a lot more in order to make an impact so I plan to make a big batch and get lots threaded on there! I've made some with regular holes as well to make a matching pair of earrings.
In fact I wasn't planning on making any beads for several days as I earmarked this limbo time between Christmas and New Year for experimenting with PMC and enamelling. Unfortunately, one of the website orders I received before Christmas hasn't reached its destination and I am going to send out another pair of earrings to the unlucky lady (this is the first time one of my a UK packages has been lost by Royal Mail). I didn't have any more of the beads in stock and so I needed to make some more; rather than waste a kiln annealing cycle on just a handful of beads, I decided to make it more worthwhilst with the coppery ones. It's something I have been meaning to do since I bought the bag and now I've made a start, I'm thinking I might just get on with it tomorrow and leave the enamelling for now ... (beads are my first love after all!) :-)