I have been away for the last week in Northumberland, we stayed in a self-catering cottage called The Haven in Bamburgh. We have stayed there before several times and it's very aptly named. The weather was amazingly good it was dry ALL week and sunny a lot of the time! Lucky, lucky us! We did lots of walking, eating and relaxing. No work, no internet connection, no mobile phones.
Missy our dog had a lovely time too - she has been in a sulk since we got back cos she isn't getting as much attention as she did when we were away! She is missing all the lovely long walks in scenery like this: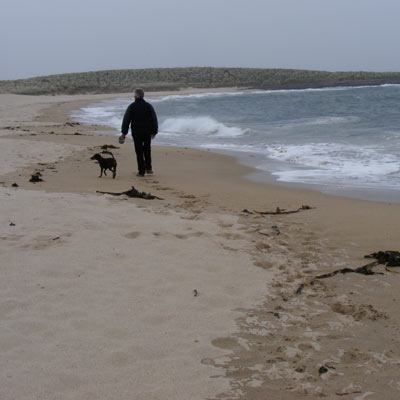 It was my birthday whilst we were there and I got loads of super presents from my family. One of which was a book on the history of Middle Eastern and Venetian glass beads. I have finished reading it and it has tons of illustrations. I have several ancient-bead-inspired ideas which I jotted down in a notebook and I'm going to get started very very soon!
I also read Eclipse by Stephanie Meyer (the third book in her Twilight series) whilst we were there and also finished off two pairs of socks! I was really pleased with the design that emerged from this Fortissimo sock yarn - isn't it jazzy?!