And it's time to remove all the Christmas decorations (else we'll turn into goblins at midnight!)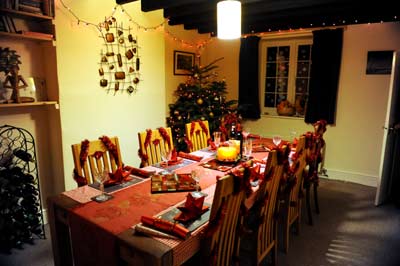 I've done a close up of the mosaic table mats below as I like them so much - glass is my favourite medium to work in and so it pretty much goes without saying I'm going to like glass mosaics. These were made by the ladies of Magpie Mosaics whose work is on the Art & Craft Market most Saturdays. Apparently, they ask customers for photographs of their tables using their tableware but customers never come back. They don't have a website at the moment and I don't have their e-mail addresses, so I'll have tell them to take a peek at them here when I see them in February. So Karen and Mari, these photographs are for you!
I find the same with brides who very rarely come back to show me photographs of them wearing their jewellery on the big day. Magpie Mosaics also make lovely outdoor mosaics like geckos and seahorses. I have one of their turtles in my lounge!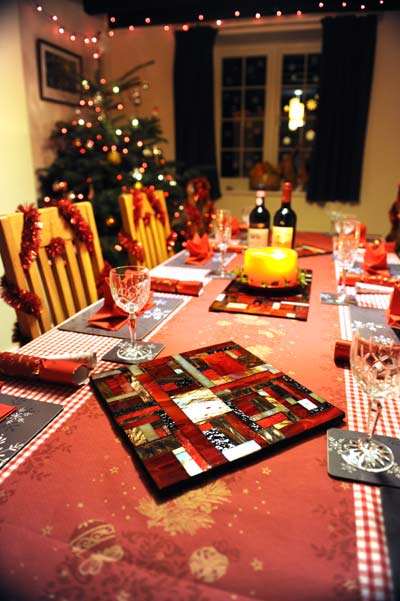 I always enjoy Christmas when it actually arrives. I never understand those grumpy old people who complain about it. I admit that some of the build up with the shopping and preparations can be a bit stressful. This year on the Tuesday before Christmas (after finishing selling jewellery for the last time of 2009 on the Monday), I had a list with 34 "to do" items on it but as I crossed things out, I kept thinking of new ones to add! On Christmas eve morning there were still 17 items on it but DH and myself worked our way systematically through it. On Christmas day, we had eight for lunch at our home (first time ever for me cooking Christmas lunch), and two guests stopping overnight. After we had eaten, opened presents but before Dr Who's Christmas special, there were still two items which hadn't got done! The list, much discussed over lunch, was then ceremonially burned on the log fire. My sister Sandy is supposed to be sending me a photograph she took of the fireplace ...?!
Anyway, with Christmas now behind us, a big barrier to the arrival of Spring has been removed, not that the weather is very spring-like at the moment. I hope wherever my readers are at the moment, you're safe and warm.