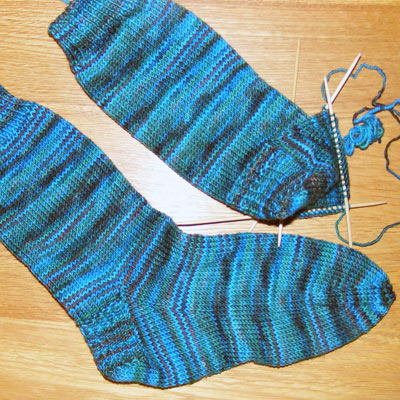 Usually a 100g skein of wool from
Violet Green
is enough to make a pair of socks with a little left over (I am saving the oddments all up and will be making stripey socks from the ones that go together in the future!) However, these socks are well short of being finished and there's only a tiny bit of yarn left. I'm thinking of partially unravelling them and then reknitting them with a shorter leg. Thing is, these little beauties arrived in the morning post ...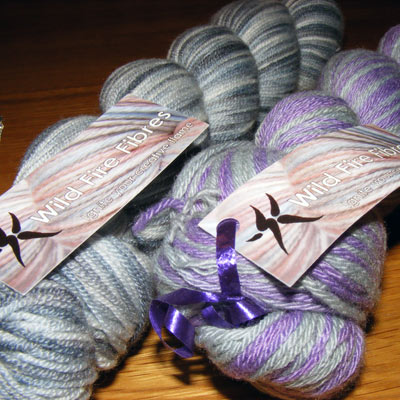 This is the first time I've purchased from
Wild Fire Fibres
on
Laura's
recommendation. The yarn is lovely and soft, I'm dying to get started using it. I really should finish the green pair first though ...
I went to the Osteopath about my neck/head yesterday, he has prodded and pulled me about. He said all kinds of things and mentioned names of muscles that I can't remember the names of but he seemed fairly confident he could fix me in 2/3 sessions and when things are getting better, he will give me some alternative upper back exercises which should maintain the improvement. In the meantime, he has stopped me doing the neck exercises that my GP gave me. He is not a fan of neck exercises as he finds they often just make things worse (which I agree with given my inability to get up on the day after I started them!)
We were chatting away during the therapy and I discovered he was a West Ham fan, I told him how in the days before I started my stall, DH and I used to have season tickets for Bolton Wanderers and we'd go visit DH's mum after the game every other Saturday (I had a proper job and could afford to go to football games then!) He suggested one reason why the muscles could be so stiff is years of watching Bolton's long ball game ... (harumph!) ;-)
Anyway, he says to just go about my normal business, take painkillers as necessary and come back in a week. So, I'm off into the studio to make beads!