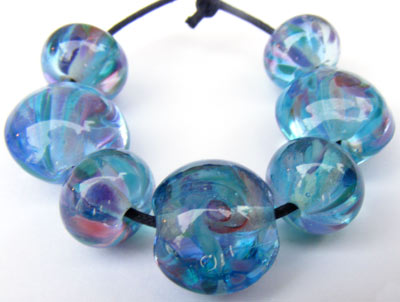 I just managed to get a picture of these beads before the batteries on my camera gave out on me. I coaxed the camera into downloading into the computer by switching the batteries around and this fooled it for just long enough!
After getting cross about the batch of these that were too dark, in the end I went two shades lighters rather than one, these are made with Light Aqua transparent Effetre glass and I think they're even better than the Light Turquoise prototype so I've gone into production with them and there are a batch cooking in the kiln right now. I'm calling them marine waltzers.
I was also planning to take a photograph of some jewellery made with the crocodile shoes beads but I'll save that for another day now.
I went to see
Jonathan Hobbs
again yesterday, he is the Osteopath who is fixing my neck/head problem. He telephoned me in the morning - I thought he was going to cancel my session with him - but he wanted me to bring in some of my jewellery that he'd seen on my website as he was thinking about buying a present for a friend. We came to a very good arrangement whereby most of my treatment for the day was paid for in jewellery! It's the first time I've ever used the barter system and I thoroughly recommend it. All I need to do now is get Sainsbury's to accept jewellery at the check out!
Additionally, I'm happy to report that today is the first day for a month that I haven't had to take any painkillers at all in order to get any work done. I was a bit sore yesterday evening and had to take some in the early hours of the morning in order to sleep, but Jonathan does warn you that the after effects of a session can be a bit rough. Since I first went to see him, it seems to have been steadily getting better and better and towards the back end of last week, I was taking far fewer tablets than before which means I've had loads more energy and am getting back to my zesty best!
Another plan for today's blog entry was to show you the round stud earrings which I enamelled at the end of last week. They've gone a bit wrong. I slightly domed them to give more interest but - as I'm an enamelling newbie, I should've stuck to flat ones because enamelling on a curve is a bit of an advanced technique and I definitely haven't done it right! I'm always trying to run before I can walk! I think they can be rescued with a third thin coat of enamel but as I can't take any more photos for the moment, you'll have to see them another time (perhaps after they're fixed!)