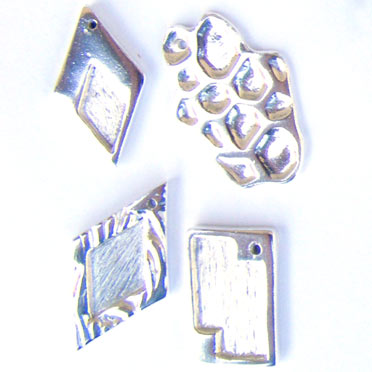 I hope everyone enjoyed the holidays, we had a lovely Christmas with all the family here on the day and have been relaxing and doing a bit of "work" here and there. Some more beads made and these PMC shapes with gaps in them ready to be filled with colourful enamel.
I always like to try and learn a new skill at this time of year when I'm not so busy making stock. The Art & Craft Market is closed until Saturday, 23 January 2010 but I am not planning on going back until Saturday, 30 January 2010 (weather permitting). So I have virtually a month off and my priorities for the time are
to change the display of my stall
spend some time on this new skill I mentioned
practise Laura's roly poly bead tutorial

I have wanted to try enamelling for some time and have decided to combine it with Precious Metal Clay. Pretty much all of the earrings I make are dangly ones to some extent or other but I often get asked for stud earrings and I think this is the medium to make them in. So ... all the things I have made in PMC are pendants ...! There is method in this madness, these are just prototypes to try the techniques out (and one of the holes is wonky so I shouldn't sell it anyway!) I've used PMC to make stud earrings before and they all sold but I haven't really got into it to any kind of depth because I like the use of colour that beadmaking affords me. By using enamel on PMC, I think I can make some earrings which are both colourful and studs.
I've got an order in for some equipment that I need like a firing fork and trivet and many other small bits and pieces but wouldn't you know it, after going on and on about never having heard of Sage Pay/Protx as a credit card provider, the supplier that has pretty much everything I want uses them! They say on the site that they take PayPal too so I have e-mailed them with details of what I want and asking if they can invoice me via Pay Pal instead of me going through the Sage Pay system. If they say yes, the order should be with me on Tuesday. Sister, Shaz of
Arcturus Jewellery
, also wants to try out enamelling, she has got a course booked this week, I'm reading a couple of books on the subject; between us, we should be able to figure it out!