I have photographed the jewellery that I made with the crocodile and marine walzer beads which I featured in the blog a few days ago. Nice to see some sunshine which enables me to get better photographs but brrrr - it's so cold again!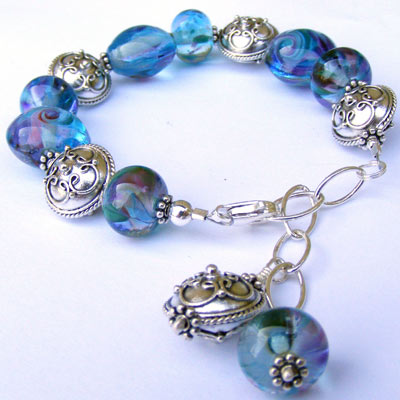 This is just one of six new product pictures added to the
Lampwork page of my website
.
I didn't set up my stall yesterday at the craft market. We travelled to Cambridge but it was so icy, the roads in the town centre were treacherous, no salting at all and you could actually see the shine where the small sprinkling of snow had been compressed by tyres and feet.
It was a cocktail of things that made me decided not to stay and set up, we got diverted around some roadworks which made us late, a van nearly slid right into us at the end of Jesus Lane which although it was slow motion, that was kind of scarey, my neck was hurting and I'd forgotten to bring any more painkillers with me. It was really difficult to get out of the car, I had my big hiking boots on, they have tread on them that comes up to my armpits but it still took ages to get any traction so I could haul myself out of the passenger seat!
We saw numerous people falling over, bicycles seemed particularly vulnerable to going over (fortunately, they all got up and seemed none the worse for wear), Sharon, my sister who has the
Arcturus Jewellery
stall stayed and said she also saw two cars having minor accidents. It just didn't feel right and I wasn't in the frame of mind to be my usual charming and pleasant self. Half of me knows that it was the wrong decision because Sharon sold lots of jewellery and had a really great afternoon! Having said that, I'm certain she was jealous when I texted her from my other sister's home where I was warm, dry, eating bacon bagels and petting her two lovely cats, Georgie and Darcy! :-)