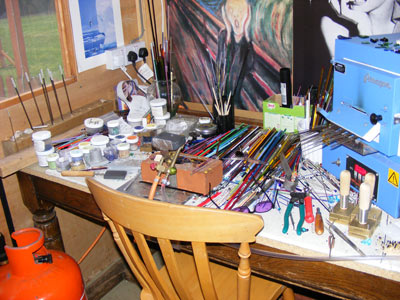 I lost my burnisher under this lot yesterday! I eventually found it again, but I really think my torch station needs a good tidy up. I'm too busy to do it at the moment but after the big Christmas rush is over, this is going to be my first job. I don't usually let it get this bad!
I'm sorry there's no new beads, at this time of year, I'm in full production mode and coming up with any new bead designs has to wait til January. I have made lots of new jewellery; mainly bracelets and repeats of earrings. The bracelets over £25 are all unique one-offs, I often make more of the same kind of beads but next time the bracelet that I make with them is a different design, with different spacers/clasp - certainly something will be different to make it a distinct item. I usually limit the number of bracelets made with the same kind of beads as after a while, I get bored and want to do something fresh from scratch. It also ensures that my regular customers always have something new to see.
I'm afraid at the moment, I have no time to photograph the new bracelets and put them up on the site so the only way to see them is to come to my stall on the Art & Craft Market in Cambridge. I am no longer accepting orders on the website for Christmas deliveries but I will be manning my stall on Fridays as well as Saturdays in the run up to Christmas, so there's more opportunity to buy!