I had to wear my newly crocheted hat, scarf and mittens on Saturday when manning my stall! I usually wear woolly tights on the very coldest days but recent mild weather lulled me into thinking I wouldn't need them just yet. However, shortly after setting up I realised my legs were f-f-f-freezing! I went to Milletts and bought some long johns and put them on under my jeans in their changing rooms! Actually they don't call them long johns any more, they're
thermal foundation garments
...! There you go then. They're extremely fetching in a kind of mad purple flower design but I don't care what I look like in them, they rescued me on Saturday and I'm very grateful.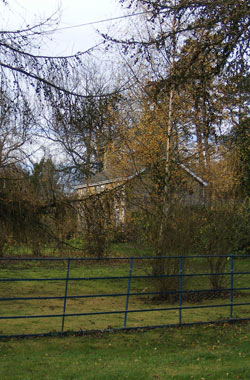 Why the picture of this tree? This silver birch tree is in my front garden and it's my hero.
I took this pic about 10 days ago because it was one of the few ones around that still had leaves. All the time there are leaves on the trees, it's not winter yet.
I really like Autumn and try to hold onto it for as long as possible; despite all the gales recently, they haven't shifted the last few clinging onto my hero tree and so it's still Autumn :-)
I've not been blogging much the last few days because I am having something of a record on-line Christmas rush and have much to do to fulfil all the website and e-mail orders I have received and
still
do a few new items for my stall. Everyone should have received an acknowledgement and an indication of when to expect delivery.
I shall be temporarily shutting my on-line shop in a few days time until the new year so be sure to get any orders in now else I won't be able to finish everything in time for the big day!