At last, here is a blue version of my dimpled nugget beads. I have tried loads of blue combinations, as blue is my favourite colour, it had to be just perfect so I took my time. It's a mixture of Effetre Ocean and Reichenbach's Mystic blue. I'm very pleased with them but I'm not sure any of the jewellery made with the current batch is going to make it as far as the stall - I'm pretty sure I'll be keeping it myself!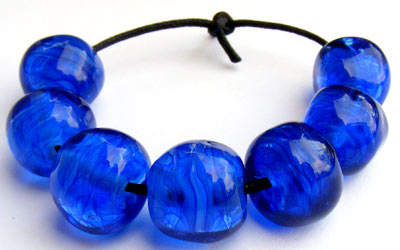 I have plans for a purple and aqua version but none of the prototypes are quite right yet.
I've also been making beads for a regular customer. She wanted a pink version of the akamai beads which have so far been made in the following colourways: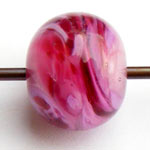 turquoise/violet
orange/brown
blue/green
I'm sure a pink one would be as well received as the others so this is what I've come up with for her.
The other akamai beads had blobs of sis (silvered ivory stringer)* swirled inbetween the colours but that didn't work with pink so I've used a combination of opaque pink, EDF and an intensely pink frit blend. I showed this bead to my customer on Saturday and I think she liked it but I showed her the new pink dimpled nuggets at the same time and she preferred those! All the same, I think I'll make a batch of these cos I like 'em!
*
For non-beadmakers, sis is a rod of ivory coloured glass with silver foil burnished into the surface, the rod and foil is then melted into a blob and when it's still in it's melted state pulled out using tweezers into a thinner rod. The thinner rod is then applied sparingly to beads in the case of the akamai beads.