One of my sisters, Sandy, and her long time partner, Chris recently told me about one of their friends and his son who are doing a bike ride across Vietnam in aid of Stoke Mandeville Spinal Unit children's ward. Sandy and Chris's friend's son had an accident when he was 15, the specialists thought he might not walk again but the unit got him walking again and this is their thank you.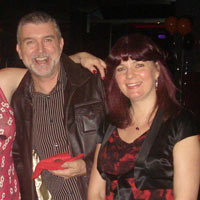 Sandy's partner, Chris, has said that if his Twitter and on-line contacts' contributions amount to £500, then he will shave his beard off ... we are all
extremely
keen for this to happen so if anyone wants to help it on its way off and donate to a great cause as well, all the
details are here
.
By the way, Chris is the one on the left in the picture ...! ;-)