What a lovely start to the day! :-)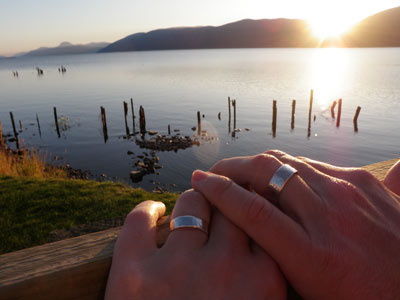 I checked my e-mails and there was a thank you message along with some beautiful photographs from a bride for whom I made matching his and hers hammer finish sterling silver rings in the summer. I'll be adding the message to my testimonials page next time I update the website.
Congratulations Jancy and Simon and thanks for the photographs of the wedding - looks like you had a brilliant day! You'll forgive me for not publishing them all here but I couldn't resist showing off your rings. What a picturesque place for your honeymoon.
Have a long a happy life together. :-)
I just know I'm going to be in a happy, smiley mood now for the rest of the day despite the awful weather and dreadful forecast for tomorrow. Because I missed last week, it feels like ages since I've seen my customers and I've got lots of new things to show off!