The hagstone bead was inspired by my holiday in Bamburgh, Nortumbria in the Spring and the jewellery made with them has been popular but I've become a tad tired of them so I tried various things to glam them up for Christmas-time and this is the result of their makeover: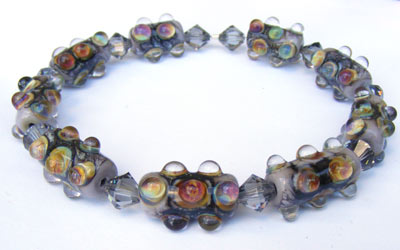 It's the usual mixture of two colours of grey with sis stringer dotted and then gravity swirled as a base. I changed the shape to a cylinder and then added dots of raku which I heated and cooled a few times, topped with blobs of clear glass, there's quite a variety of colours trapped behind the clear glass. I've called them tardis beads as they remind me of the interior of the tardis (great Dr Who special on Sunday wasn't it?!)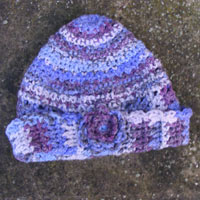 And here is my new hat, it's based on a pattern of hat that was made for
fellow beadmaker Laura, by her fella, Chris's mum
. (Thanks for sending the link, Laura!) I've used different yarn as I couldn't find any Coats on-line in the UK. I used Sirdar Crofter instead bought from Sew Creative on King Street in Cambridge. I've also changed it so it's got a turn up as I like 'em and it comes down right over my ears - I get very grumpy when they get cold on my stall!
I'm also doing a matching scarf which is almost finished; I might have enough wool to do some mittens as well - we'll see. Now I'm ready for when the colder weather arrives. It's a bit mild for hat wearing at the moment. I remember last year pinning my poppy onto my "big" coat a few days into the start of November; this year, it went on my slightly padded showerproof jacket and didn't shift.