I know I'm a bit early (or
very
late, depending on your point of view) but I have made a new year's resolution already/at last!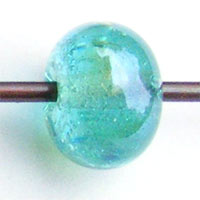 I made this bead about a year ago but can I repeat it??? NO (wail!) It's such a pretty colour. It was a disc of a transparent Effetre and then I twirled the edge in one of three frits that I was playing about (either Double Helix Aion, Beadysam's Iris Gold or Tuffnell Glass's Iris Gold) and then melted it round.
In the past few months, I have made a bead with every transparent colour in my collection with all three frit colours. In the past week, I have made a concerted effort, all I can remember is that I was very surprised when the bead turned this colour as from the base it seemed most unlikely.
In the face of my failure to repeat it, my new year's resolution is to write down what went with what when I'm experimenting. This bead has become a kind of quest, a nirvana, an ineffible unattainable ultimate colour.
I know I promised yesterday that I would update my website with new photographs ... tomorrow, I promise!