I've been practising a new way of encasing. Encasing beads is really tricky to learn. Beginners find it maddeningly difficult. I've only been making beads in earnest for about two years and I remember well how long it took me to learn and how many beads ended up a horrible mess. The only method I could get to work was as described in Kimberley Adams book which starts with a lollipop of clear glass. Actually, it could be any colour of glass but usually clear or a light transparent colour works best. I've tended to stick to that method as it works for me, although I do sometimes get a small number of tiny bubbles trapped in the encasing.
My favourite beadmaker, Laura Sparling, has been making
some wonderful tuturials in PDF format
and she's even had a got
a moving and talking version of one of them
so I thought I'd go back in time and have a go at learning a different encasing method - you never know, it might be better! I couldn't make this work from the descriptions in the books I had at the time - if only these had been available then!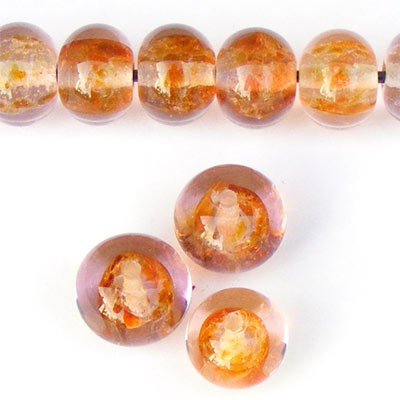 Here's what I have come up with, no trapped bubbles! These orange beads are quite simple, just clear glass some transparent frit and then encased in Effetre pink (which I always think looks more like a pale beige than pink ...) and the result is that the frit is magnified and looks like it's just floating around inside the bead. I have them on my table teamed up with some other lovely things which just look great with them. These are going to be made into a very special bracelet tomorrow!
These are Vetrofond black with raku frit rolled, heated and cooled a few times to bring out the colour and then heavily encased with Vetrofond clear. The photography conditions haven't been too great, it was grey and overcast and so the glass looks grey too, but hopefully you get the idea. These beads are already a pair of earrings which you'll be able to buy from my stall in Cambridge on Saturday!