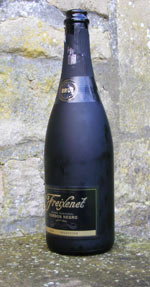 Look at this bottle ... black glass for recycling into beads. The last time I drank Spanish Cava was on holiday in Barcelona many years ago. I haven't been abroad for a long long time. It was in a bar behind the Picasso museum. There was a huge queue to get in and we didn't fancy waiting so we dived into the bar intending to see if the queue had died down in a couple of hours ... we never actually made it to the museum that day!
I wasn't even making lampwork beads in those days so I didn't think twice about the black glass of the bottle at the time but when I saw this on the virtual shelves at Sainbury's whilst doing my on-line shopping last week, I suddenly remembered that lovely holiday and couldn't resist ordering a bottle.
We drank the Cava with Sunday lunch yesterday - I am soaking the label off as I type. The bottle needs to be rinsed and thoroughly dried before I can melt it into beads so it will be tomorrow that I make the beads. DH has told me not to buy any more; it's only 12% proof but it's loopy juice! Maybe it's because it's fizzy, anyway, as I am always telling customers who come to my stall on a Saturday - one has to suffer for one's art!