Gosh, we were lucky in Cambridge yesterday. The forecast predicted dire weather from lunchtime onwards but it's too close to Christmas for me to stay away and I had customers planning to stop by to pick up things ordered via e-mail, so I really needed to be at my stall. My rule of thumb is that if I can get a good half day's trade in then I'm happy to be there.
As it got closer to lunchtime, the weather actually started to brighten up from the grey claggy cloud we'd had in the morning and by mid-afternoon, we even had some glimmers of sunshine! It didn't last all day though, we packed up in the dark at around 4.30 in some yukky drizzle but we counted ourselves extremely fortunate to have had a good day's trading.
I had loads of new items to show off having been away last week. The jewellery I made with the cava beads attracted lots of interest, I sold a bracelet to a lady who zoned right in on it; it was the first thing she picked up - she was amazed when I told her what the beads were made off as it's her favourite drink. The guy with her insisted she buy it (what a sweetheart!) :-) A couple of pairs of earrings also sold (Sorry no photos, I didn't get time to do any this week).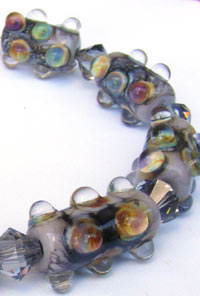 The new tardis beads were another good talking point! DH didn't feel that the name was very conducive to jewellery sales and so we were trying to think of a new one; we enlisted the help of anyone who picked the tardis bead jewellery up (two pairs of earrings and a bracelet - no photos again).
One young lady came up with "dalek beads", which I totally get and isn't it a coincidence that she used a Dr Who theme even without us telling her their provisional name?
Another person said "blister beads" which we didn't think would help at all! :-) By this time, both a pair of earrings and the bracelet had been sold. The last pair of tardis bead earrings sold to a lovely lady whose husband came up with the unfortunate name of "pustule beads" ... ahem, I think I'll be sticking with "tardis beads" when I make some more of these next week ... unless any of my blog readers can come up with anything better!