Someone close and very dear to me was diagnosed with breast cancer on Monday. I'm not going to go into any more details mainly for the sake of her privacy plus if I write anything sentimental, we're all emotional enough already and it will just cause more tears.
On the same day as I got the awful news, this envelope arrived with my post.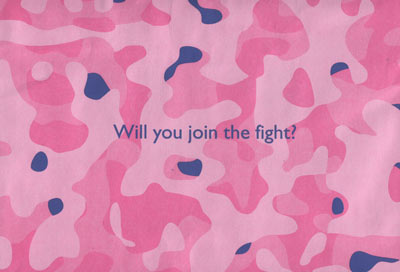 Whenever something touches me very deeply or is extremely upsetting, I want to do something practical. In this case, I want to cure all cancer ...
now
. Unfortunately, I can't do that on my own so I have decided, yes I will join the fight.
The literature from the Cancer Research people urged me to do a direct debit of £2 per month, I was tempted to do that, but if I do another Charity Page on my website like the one I have at the moment for the
Orangutan Foundation (on which I am selling my red mist jewellery)
, I am hopeful that my wonderful customers will help me raise much more than that. So far, by donating half of the proceeds from the red mist jewellery,
the Orangutan Foundation UK
has received £193 in the past four months.
So I need a bead ... on Tuesday I made all kinds of prototypes based on the colourway on the envelope and I have chosen this one as my favourite.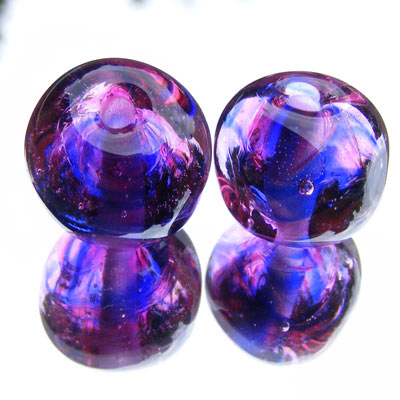 The shape of the beads doesn't really show up very well from the photograph, they're nugget shaped rather than uniform round. I have commandeered the melon baller from my kitchen which is metal. After making a roughly round shaped bead, I make indentations on the bead with this new tool, the work marks are then melted in and it leaves an gentle organic shape which I am calling "dimpled nugget" - the shapes left on the surface are like the camouflage blobs on the envelope image.
For beadmaking colleagues, the colours I've made this bead from are all Effetre: rubino oro and violet swirled around dark rossato and then heavily encased in dark rossato.
I've made a big batch of these beads today along with numerous matching spacer beads. They're annealing in the kiln as I type and they should be cool enough to clean whilst I watch TV this evening.
I'll be making them up into jewellery, it will be my top priority tomorrow so I can put it all up for sale on my stall on Saturday. Half the proceeds will be donated to Cancer Research, I'll be making a new charity page for my website when I get chance to enable my mail order customers to join in.