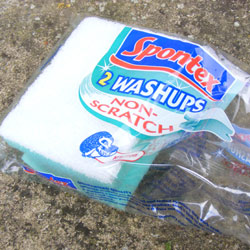 Washing up has been very difficult in my house for the last few days. I ran out of these Sponge wash ups for the first time in a very long time. All I could find in the cupboard under the sink was a J-cloth which tried manfully to cope but the non-scratch scourer on one side of the wash ups makes quick work of anything that is beginning to get the idea of sticking around. Plus I find the shape of it very ergonomic to use.
Welcome back, my little spongey friends - I was getting more than a little peeved that the washing up was taking twice as long as normal. I get very impatient when knitting, dog walking or University Challenge on the telly is beckoning. We have a competition every Monday night during UC to see who gets most answers right, I got thrashed 9-4 by DH last night.
What is your favourite household item (
don't
say a dishwasher ... else I'll get jealous - I don't have room for one in this house).