I'm so glad to report that the Craft Market in Cambridge was back to its usual "tranquility" yesterday, lots of shoppers, bank holiday weekenders and day trippers amid the trees and stalls at All Saints on Trinity Street. It was a pleasure to be there on a lovely summers day. There was a jazz musician just outside and some really nice laid back "lazy" numbers were drifting in over the buzz of the shoppers which suited the atmosphere perfectly. I'm not usually much of a jazz fan as I tend to think most of the fast stuff just sounds like someone tipped some instruments down the stairs but the cool, mellow stuff is .... great! ;-)
After complaints and e-mails from various stallholders (including me), the Markets Manager and the Council, the police sent a couple of officers round on patrol a few times and they stopped by to have a word with me saying that they were going to nip this thing in the bud. They are apparently putting the word out amongst the street people that anti-social behaviour would not be tolerated in the Craft Market. If they defy the message and there are further transgressions, there would be arrests. I found it most reassuring.
It has however given me a bit of a kick up the backside that I am too reliant on my income from the Craft Market so I think I'll be upping my on-line presence. Much as I love the craft market and the way of life it affords me, I can't see me sitting out in all weathers when I'm approaching pensionable age!
I already have an account with
Etsy
as I do buy from there quite often but I haven't sold anything yet. I shall also look into
Artfire
,
Folksey
and other places too. I found Ebay far too expensive to sell from when I tried that 3-4 years ago. The on-line sales sites that specialise in hand made items seem far more reasonable in their listing fees. From what I can see, Artfire seems to be free ... they must make their money through advertising perhaps.
I must stop by that shop that Laura mentioned in her comment last week as well, though I'm not sure they would take my items all the time I am also selling in the craft market but perhaps if I developed a new range exclusively for them.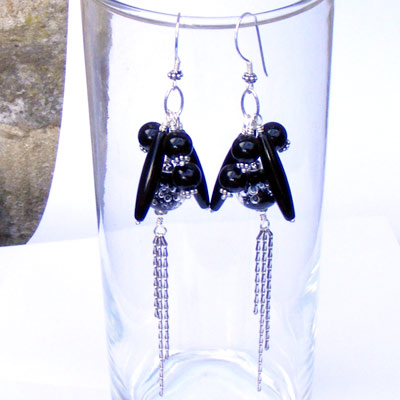 In the meantime, here are a couple of new design earrings that went on display this week for the first time. They are both priced at £20, not on the website yet but soon will be. The black ones feature my black/silver bubble beads, different shapes of onyx and some antiqued chain. The other pair have a super new (to my designs) shape of swarovski crystal nuggets and some bumpy beads made in transparent straw yellow glass. The bumpy bits are made from stringer of silvered glass and these have been reduced to very shiny golden dots. Excuse the peculiar photographs, I needed to hang them from something as they're so long!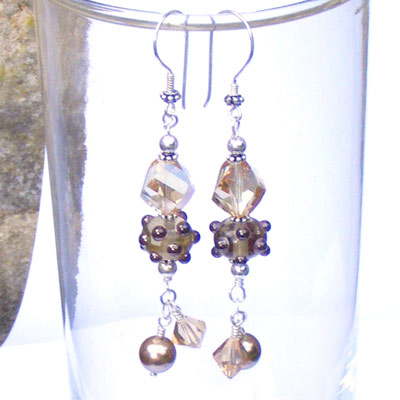 Enjoy the rest of the bank holiday weekend!