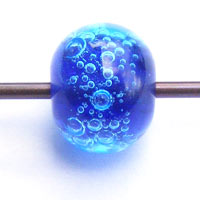 I think this bead is really pretty. I made lots of black bubble beads for Fiona's commission, they looked super-sophisticated made up into jewellery and Fiona e-mailed yesterday to say how pleased she was with everything. I'll post a picture after her party on Saturday (don't want to ruin the surprise!)
However, I thought I'd make some brighter bubble beads this week. This experiment is a base bead of violet, rolled in a light sprinkling of baking soda and then encased with aqua coloured glass. I've made a batch of them this morning and they are annealing in the kiln along with some other experimental colour mixes.
I've been a busy gal on my website the last couple of days. I have updated all the outstanding new products onto the Sooz Jewels website (about three weeks worth). There are too many to put here but some of the highlights are detailed on my
home page
.
I've made a
new page for the Red Mist
items so all the products are together. In the Red Mist range, I sold a £40 bracelet and a pair of £12 earrings on Saturday and so a cheque for half of those values, plus £6 from last week's sale of a pair of earrings was sent to
the Orangutan Foundation
yesterday.
I'm hoping to pretty up the Red Mist page with a picture of an orangutan. I've asked the Foundation if they have any available for fundraising purposes but if they don't, I have my eye on this
cute picture here,
which I will buy.
There's also (at last!) a new page on the website for my
Pandora beads
. Um ... there aren't actually any beads on the page yet (still got to do the photography for that!) But the starter bracelet is there ready and waiting. Now there's no tennis (sniff!) I may actually get the photography done this week!
Finally, there is also now a
Frequently Asked Questions page,
too.