Despite the fact that my computer is refusing to talk to my digital camera, DH's computer has been far more amenable. Perhaps my laptop was just having a case of Monday blues but it might be time to think about a new one as it's over five years old. But anyway, here are the beads that I promised yesterday. I am going to make some more of these and hopefully get them made up into jewellery this week.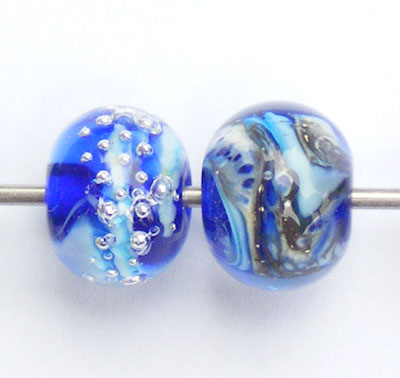 I forget to tell you, I sold my first Pandora style, large-hole bead on Saturday! I only started putting them out for sale on the stall two weeks ago. I still haven't photographed any yet and I want to make a new page on the website for them.
These are jobs that are on the list of jobs to do this week but as its Wimbledon fortnight, I might not get round to everything. I will be wanting to watch all of Andy Murray's games live but for the main, I will content myself with the hour of highlights in the evening. Today he is third on centre court so it's finally time to get my ironing up to date. I can iron inbetween points and not feel so guilty that I'm watching TV in the middle of the day! Wimbledon fortnight is the only time my ironing pile is ever up to date!