I've been a busy bee over the last couple of weeks, making new beads and new jewellery but I haven't really been updating my website with my output. After photographs that I have been taking this week, I now have two weeks worth of new items to update the website with.

There is usually always more to see if you come to my stall on the Art & Craft Market than is on my website. Sometimes I don't get time to photograph everything and it goes out for sale and then if it's sold, I don't get a photograph of some items at all!

I've been creating and photographing all day today. I've packed up my boxes ready for transporting to the market tomorrow, printed new business cards and now I've had my beef stroganof dinner with lashings of my favourite Chianti red wine, I don't think I'm going to get my web updates done tonight. I am hoping to get a couple of hours to do it on Sunday - especially if it rains. In the meantime, here is a sneak preview of a couple of new necklaces that are a bit of departure from my usual style.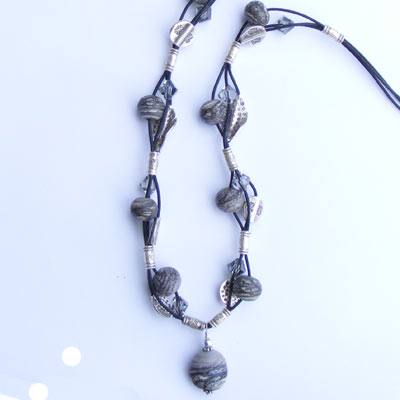 The above is made with a combination of my etched hagstone inspired beads, sterling silver bali beads and 8mm swarovski crystal bicones strung on 1mm black waxed cotton. I so want to keep this one myself that I'm hoping no-one buys it!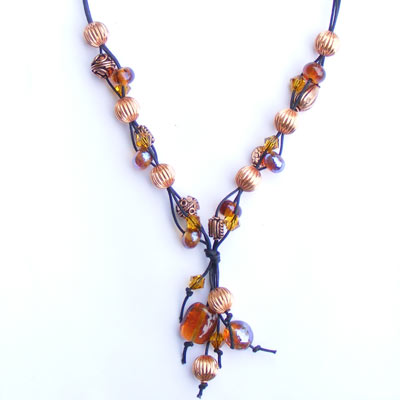 The above is a combination of my lampwork beads made in the same manner as the simple green shoots beads but this time in an amber colour. I've used a reduction flame at the end of beadmaking to give the same kind of shiney finish that the green shoots beads enjoy. I think they look super with a variety of copper beads and topaz swarovski crystal bicones; again all strung on 1mm waxed cotton.