I didn't make many new designs last week, there was only one necklace with matching earrings and that was the sum total of new items on my stall last Saturday. Any necklaces and bracelets costing over £25 and made with lampwork beads are one-off designs. I might make some more of the same type of beads but next time, I make a totally different necklace or bracelet with them.

Many people want earrings to match their necklaces/bracelets and I've found from experience that if you don't have matching earrings in stock, you can lose a sale. But last week, everyone was mainly buying earrings - it was a big earring day - so almost my entire week's production was on making more to match the unsold necklaces and bracelets! My zebra necklace (with matching earrings!) was a notable exception. One of my regular customers purchased it to take with her on holiday so I hope she's having a lovely time!

So, rather late, here are photographs of my latest new creations.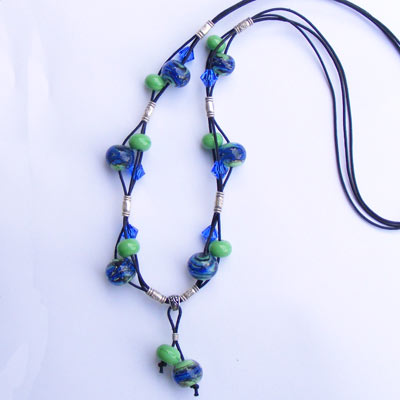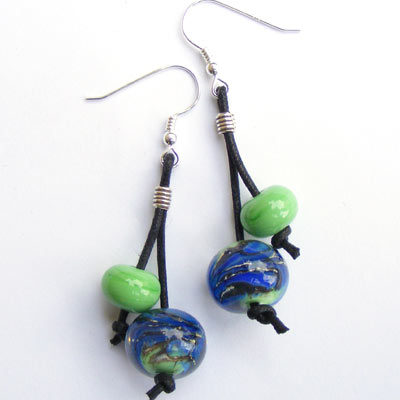 When I first made the beads (see close up in my blog entry Blue and Green shouldn't be seen on 8 May), I named them blue grass but I'm not that keen on it. The lack of a name has stopped me putting them up for sale on the website! It's got me completely stumped. Has anyone got a better name for them? I will run a draw of everyone who suggests a name here on the blog and the first out of the hat will get a pair of the earrings. Deadline for entries here on the blog is midnight on Wednesday, 3 June 2009.

If you prefer, you also enter by e-mailing me via the Contact page on my website.