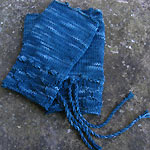 My new mittens came in for some use yesterday when I was on my stall. It was cold and wet - both of which we can manage with, but the wind kept gusting. Wind is the hardest thing to deal with on an outdoor market. The tarpaulins get little puddles of rain in them, no matter how tightly you fix them down and when the wind blows, the puddles drain onto whatever is beneath the edge of them. Hopefully not a potential customer! Things fall over, prices blow away ... I'd rather it were wet all day than windy!
Half way through the day, we all wished we had just stayed in bed, there were precious few customers about and I think I just about broke even! Even so, nice to see a couple of regular customers and chat to them and it was great to find out that my mittens were a big success!
DH is off on a jaunt with one of his flying buddies today, he is going to Cromer and promises to bring back fresh crab for dinner! I have loads of jobs on my to do list:
Put all the foam inserts into my new boxes order which came this week

Publish photographs of new items on my website

Tidy up my studio, the desk looks like a glass bomb has hit it

Get up to the date with the ironing (note that item is right at the bottom!)
Not the most exciting of days but I will feel very virtuous when they're all done and ready to get on with the fun of making things next week.