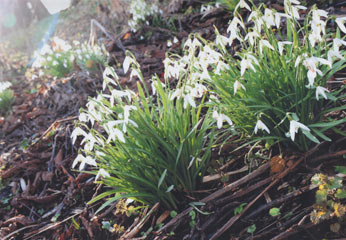 Loads of reasons why my blogging has been tardy, sorry they're all excuses (but good ones!)
My dog got attacked last week, two vet visits, £60. I won't bore you with many details but I was very silly in taking on two full grown labradors that had Missy round the throat. I was trying to give off "Leader-vibes" so they wouldn't bite me as well but the "calm assertive" attitude you need according to Caesar Milan doesn't work when you're screaming at them at the top of your voice (I think it surprised them cos they let go!)
Missy has got some nasty looking wounds but she's going to be fine apart from some scarring.
I also had a health scare of my own involving GP and hospital visits which fortunately turned up (next to) nothing and I'm fine now.
My two sisters and their partners plus my mum and dad came for a visit last Sunday to see the snowdrops which are on the land adjacent to our house belonging to the farm. I made lunch for us all so there was eight of us altogether. It's a good job Sandy (one of my sisters) made dessert - a lovely chocolate orange trifle - don't think I would've had time! This is a photograph my husband took (of the snowdrops, not the trifle!) - they have been out ever since the snow melted. Aren't they beautiful?