Today I'd like to highlight the difficulties of working with the unpredictability of some glass colours.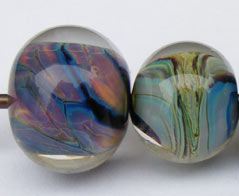 I made the bead on the left last week and was really pleased with the lovely purples and blues that I got out of encasing Double Helix's Pandora glass. It's quite an expensive glass containing a lot of silver and that's what leads to all the fun! I've had some Pandora in my glass stash for a long time and never managed to get any really nice colours out of it but when I "stormed" the glass before encasing after buying a tutorial on
the storming technique written by Amy Kinsch
, the bead on the left was the happy result.
Delightedly, I made a batch of them the following day and was careful to ensure the beads were "garaged" for approximately the same length of time (2 hours) as I know the length of the time the beads soak at annealing temperature can affect the colours Pandora gives you. I swear I made them exactly the same way, I even used the same stringer of stormed glass - the only difference is that the beads are a little smaller as I usually make earrings first and then find out what my jewellery customers think before I invest more time in making matching bracelets/necklace. But the bead on the right is representative of the colours I got this time - all 6 beads were the same. Oh well, back to the drawing board on Pandora!
Red is another tricky one ...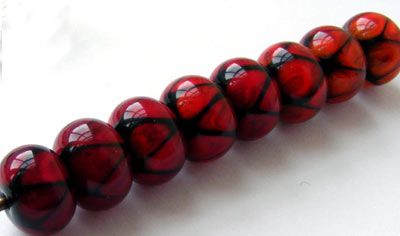 Here are some triangle beads that I made with a transparent black base, dots of Effetre fossil (which give a stratified effect which looks a bit like a swirly fingerprint in the background) and then each dot is encased with Effetre transparent red. Again, I tried to ensure I made all the beads exactly the same way but look at the colour shift I got when striking - the ones on the right are positively orange!
Of course, us long-suffering beadmakers are not helped when the glass itself changes colour at the manufacturer.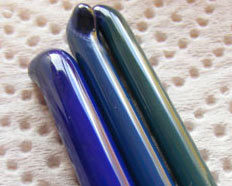 Over the last three years, these are the different colours of "Iris Blue" I have been sent.
Customers often wonder why I can't guarantee to match beads that I have already made with more ...!
There is always a solution to badly behaved glass - cake!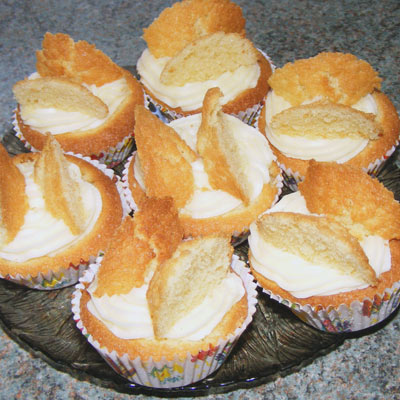 I baked these fairy cakes yesterday. They seem to be called cupcakes nowawadays but when I was young, my mum used to make these for our birthday parties and we called them angel fairy cakes (the bits on the top are supposed to be angel's wings) so that's what I'm sticking to. I have tried to make them look exactly the same as she did, my sisters will undoubtedly tell me whether I've got them right or not and I shall take some round to my mum and dad's next time we visit so we can take a trip down memory lane; there are only two years between Sandy and I; there was always a battle over the right to lick the spoon and bowl after the cakes were made. :-)