I have made my first pair of enamelled stud earrings, here they are in all fine silver including the earwires, the colour is Kingfisher Blue and this time I've got the enamel level and smooth. Very pleased with these.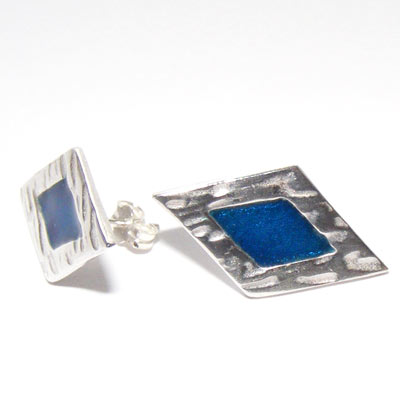 These are dangly diamond earrings with Celeste enamel but I am utterly, utterly ashamed of the holes I have drilled in these. They are not central. I am used to drilling in .3mm or .5mm sterling silver. I use a punch to make a small pilot depression to guide the drill bit and then use my .9mm dremel bit to make the hole. This method does not work on thicker fine silver made from PMC. I think the main problem is that I have textured the surface and the drill bit has skidded out of the pilot depression off to the side. I cannot offer these earrings sale because of that so I'll be keeping these for me. I just wanted to show off the enamelling!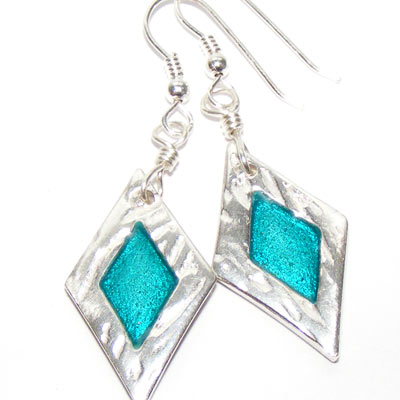 Ditto goes for these rectangular earrings in Pale Blue - this is my very favourite colour so far of enamel.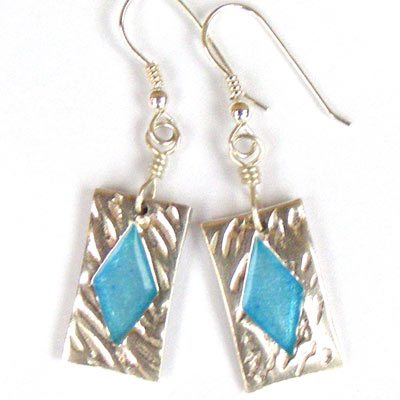 It would have been so easy just to poke a well placed larger pilot hole when the PMC was wet and this is what I'm going to do with the next batch that I make - hopefully I'll be able to offer them for sale. I'll probably have a competition and a giveaway of the first pair.
I have received some really sweet e-mails from regular readers worried about me disappearing from my blog for a week after writing about headaches; I'm sorry I worried you - I'm still very much alive, not in hospital or lying in abject misery in a sick bed!
I do still have the headache, it has now been a permanent feature for about three weeks. Disprin is controlling it during waking hours so I can go about daily life. I spoke to a doctor about it again yesterday. GP still thinks it's a muscular problem but as a precaution she is making an appointment for me to get a scan at the hospital in the next couple of weeks (I always knew I needed my head examining!) I also have an appointment with an Osteopath on Monday to see if he can "unspasm" it.
I feel a bit of a wimp moaning about my headache when so many other people are going through so much worse in the world, particularly in Haiti, so I am looking on the bright side and counting myself lucky that I have shelter, food, warmth, medical help and people who I love.
Whilst replying to e-mails about my health (thank you again!) I recalled a poem I read in my youth about someone's "get up and go", which "got up and went". Some research on the net has shown it to be a traditional poem so I guess I'm not infringing copyright if I reproduce it here:
MY GET UP AND GO HAS GOT UP AND WENT

How do I know my youth is all spent?
My get up and go has got up and went
In spite of it all, I'm able to grin
When I think of the places my get up has been

Old age is golden, I think I've heard said
But sometimes I wonder as I crawl into bed
My ears in a drawer, my teeth in a cup
My eyes on the table until I wake up

As sleep dims my vision, I say to myself
Is there anything else I should lay on the shelf?
But nations are warring and business is vexed
So I'll stick around to see what happens next

When I was younger, my slippers were red
I could kick up my heels right over my head
When I was older my slippers were blue
But still I could dance the whole night thru

Now I am old, my slippers are black
I huff to the store and I puff my way back
But never you laugh, I don't mind at all
I'd rather be huffing than not puff at all

I get up each morning and dust off my wits
Open the paper and read the obits
If I'm not there, I know I'm not dead
So I eat a good breakfast and go back to bed