I am not at my stall today, with the forecast being for the weather to be so wild and windy, from experience, I just know it's always really difficult to cope with on an outdoor market. For anyone who does venture into Cambridge to see my stall, I apologise for not being there. I think this is only the second time this year I have missed a Saturday due to the weather.
So, I have a "free" day, time to make good on my promise to update my website with new jewellery and I am going to get on with it any minute now ... can you tell I'm putting it off?! Anyway, in the meantime, here are some photographs of the glass beads I made by recycling the Cava bottle I photographed early in the week.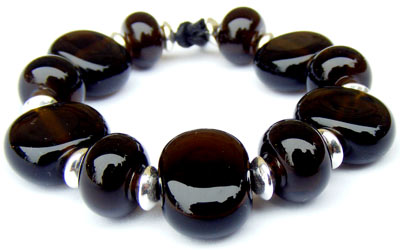 As you may be able to tell from the photograph, the glass is in fact a very dark brown rather than black, the top edges of the beads reveal this where the light shines through most. When I was making the beads, I was a bit worried they were just going to look the same as the beer bottle beads that I make but these are quite a bit darker than those.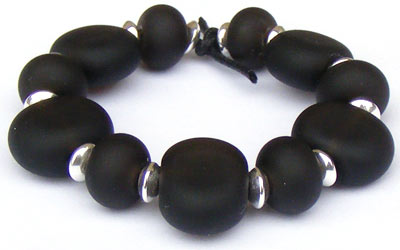 And when they're etched (as the bottle is), as you can see, they transform into these lovely velvety black beads.
I made quite a few more beads than I have photographed. As this is a new type of recycled glass to me, it's difficult to know what the COE of the glass is precisely and therefore ascertain the correct temperature to ensure the beads are properly annealed. The beads will have to pass several of my own personal quality control tests for durability before I turn them into jewellery for sale to all my lovely customers. I'll keep you posted!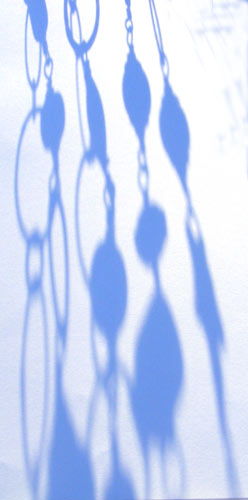 I leave you for now with a photograph that I took last weekend when the weather was much nicer - I noticed this shadow made by the sun shining through my jewellery.
Whatever you're up to this weekend, have a lovely time and I hope the weather doesn't disrupt it too much.