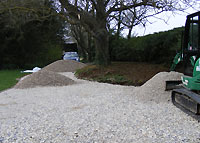 But fortunately, not the painful kind! Today the gravel arrived for the top dressing of the new driveway and path to my studio. The pile on the right is a bit of limestone that's being saved for a a new pathway at the front of the house, the other two are of the gravel.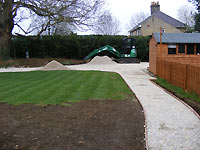 Here is a picture of the new pathway (minus gravel at the moment) which goes up to my studio and will be a boon in wet weather. There used to be a hump where the bare earth is; the machine in the background removed it and so it's now level. When I was wearing my boots with no grip, I slid down the incline and ended up with a muddy bum so no more falling over for me!

The guys are coming tomorrow to spread out the gravel, topsoil/level the bare bits and reseed with grass. It's going to look really great when it's all finished then it's up to me to plant out the huge area under the ash tree.
I haven't posted any pictures of new beads for ages but I have been working on some - particularly Pandora beads. I have found it very tricky with the greater quantity of glass to stop them from going lopsided. I think I was putting them away in the kiln too early and the glass was slumping from still being warm. It couldn't possibly be my technique ... well actually I think some were! However, when I'm twirling them to make sure they're level and not lopsided, I'm now looking at them end on which I don't have to do with smaller beads on normal sized mandrels. I'm also waiting a bit more before putting them away - bigger beads hold heat for longer. As a result, the beads are far more even and some are even saleable. I'm going to open a shop on Etsy for selling these as well as having them on the stall on Saturdays.
I have been silver coring some today and hopefully will photograph and post them tomorrow.