We decided not to do the market today; given our last experience when it rained all day we couldn't face it. Especially when the forecast says this horrible wet drizzly patchy rain is going to last all day in East Anglia. So we are at home. Sincere apologies to any of my regulars who turn up expecting to see me there; it's very rare that I don't show up!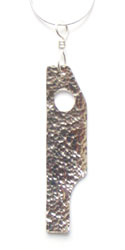 I forgot to mention in my blog entry yesterday that whilst I was not beading much during the driveway works, I have made several of the sterling silver letters of the alphabet in the
initials pendants range
. I now have a better idea of how long they take to make and so am able to reduce the price from £35 to £28 - great value.
This one is a stylised version of the letter P.